Applications open for garden waste permit
Parish Councillor Vacancy Notice
Rowington Parish Jubilee Celebration – Sunday 5 June from 2pm to 6pm – JubileeFlyer
Council to introduce new green bin subscription service
Warwick District Council 123+ Waste Service
PublicConsultationFlyer  – have your say in the future of the Playing Field
Road Closure Notice Quarry Lane 13 September 2021
Village Show – Saturday 7 August 2021 – 2pm at The Fleur de Leys, Lowsonford
https://lowsonfordrowingto.wixsite.com/villageshow
Road Safety & Traffic – Warwickshire Police and Warwickshire PCC are undertaking a review of parking outside Warwickshire's schools.
Inconsiderate, unsafe and illegal parking around schools is an ongoing concern for Headteachers, parents/carers and residents and puts the safety of children, and others, at risk.
Partners would like to invite you as a parent or carer, school or local resident to participate in an anonymous survey. Feedback will help focus efforts, and shape future initiatives to make the roads outside and around Warwickshire schools safer.
To take part in the surveys follow the links: Parents/ Carers: 
https://forms.office.com/r/jeWYQCC50S
Residents: https://forms.office.com/r/fcKxv1W8Hd
All surveys need to be completed by 30 July 2021
WCC is setting up a cross party working group to look into the evidence, cost, impact and benefits of introducing 20mph limits in residential areas.
Cars & Kids Don't Mix Campaign https://www.warwickshireruralwatch.co.uk/newsite/2021/05/17/cars-and-kids-dont-mix-campaign/
Adapt & Diversify Covid 19 Recovery & Investment Grant
https://www.warwickshire.gov.uk/directory-record/6450/adapt-and-diversify-covid-19-recovery-and-investment-grant
Community Infrastructure Levy Information
Agenda Annual Parish Meeting 29 April 2021
Census Your questions answered
TEMPORARY CLOSURE OF C22 NEW ROAD NARROW LANE BACK LANE & D5109 HIGH CROSS LANE LOWSONFORD ROWINGTON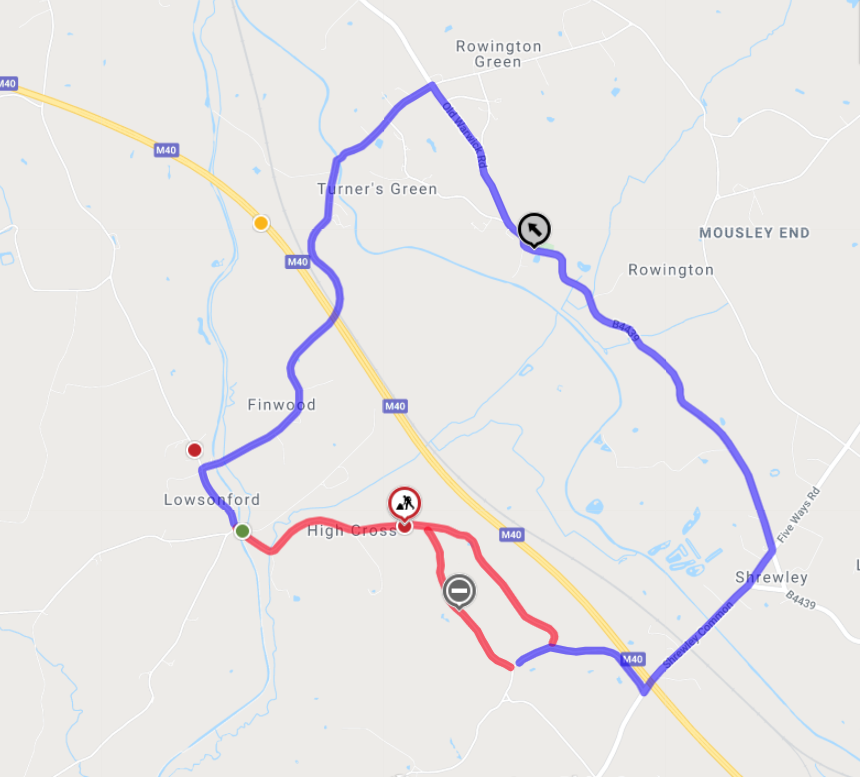 Notice of Vacancy December 2020
Remembrance Sunday – St Laurence Church Rowington. A short wreath laying service will be held on Sunday 8th November at the War Memorial in the churchyard. To comply with Covid and lockdown restrictions attendance will be limited to those laying wreaths, parish council and church officers. Social distancing will be observed at all times.
Coronavirus – As we approach our second lockdown, if you are self isolating and alone, please contact Nicola Everall, Parish Clerk.  If you are in need of help, or can help, please call 01564 785145 or 07940 476727.
Changes to Your Christmas Recycling
Revised Bus Time Table 510-511 Bus Time Table
For more information please visit http://www.flexi-bus.co.uk/
Please find attached the new application pack for the District Council Emergency Grant Fund Community Emergency Response Fund Document
Green Bin Collections Resume from 20 April 2020
https://www.warwickdc.gov.uk/info/20465/rubbish_waste_and_recycling
Emergency Plan Questionnaire  RPC Emergency Planning Form
You may wish to register on the Priority User System
https://www.ofgem.gov.uk/consumers/household-gas-and-electricity-guide/extra-help-energy-services/priority-services-register
Grass Cutting Service
During this concerning time regarding the COVID-19 virus the Parish Council will ensure there is minimal disruption to our grass cutting, however, I hope you will understand if any changes have to be made over the forthcoming weeks.
Our Contractors are all following the current Government health guidelines and are attending areas without contact with anyone.
Grassed areas are important at this time, to relax and enjoy some fresh air in a safe and private space outside. We will work together with our contractors to get through this difficult period and keep our grassed areas looking good.